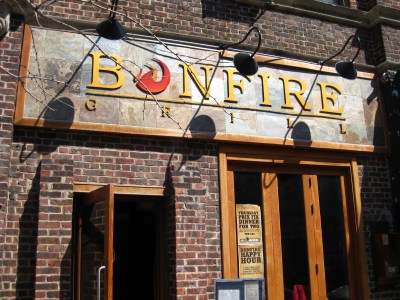 Voodoo Tiki® Tequila and The Bonfire Grill are partnering to bring Voodoo Tiki Ultra Premium traditional and infused tequilas to New York tequila aficionados.  The Bonfire Grill will be offering iconic beverages including house specialty cocktails and the world famous "Desert Rose Prickly Pear Margarita." The Bonfire Grill is located 7227 Austin Street @ 72nd Road in Queens NYC.
The Bonfire Grill is a new addition on bustling Austin Street in Forest Hills, New York.  Bonfire Grill strives for the perfect balance between intimate, fun, casual and upscale.  Their goal to provide guests with a memorable dining experience, lively bar scene and a menu with an innovative twist on classic Americana an international favorites.  At The Bonfire Grill the management places an emphasis on repeat customers, looking forward to guest  become part of the Bonfire Grill family. The motto at the Bonfire Grill is, "Enter a Stranger, Leave as a Friend."  Wine enthusiasts will be pleased to see 30 different wines by the glass, as well as our Premier Wine List by the bottle. Bonfire Grill's full bar features classic favorites and well as hip new craft and boutique spirits, now featuring  Voodoo Tiki Platinum, aged and infused tequilas for guests to enjoy.   Ask for the Bonfire Grill signature cocktail menu featuring creative specialty martini & cocktails, as well as numerous beers on tap and by the bottle.  The Bonfire Grill offers "Happy Hour" specials daily.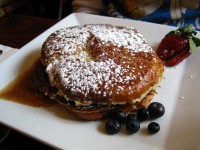 Specialty Voodoo Tiki Cocktails and "Infused Margaritas" will be available.  Starting this week, The Bonfire Grill guests can order a Voodoo Tiki Tequila Mar-Tiki® featuring muddled orange, lime and artisan syrups before settling in for all major sporting events.
Voodoo Tiki Tequila is made in small batches, with the finest ingredients in a process that results in an award winning taste profile with very little heat or bite.  Voodoo Tiki tequilas feature notes of sweet agave, vanilla, caramel, butterscotch, dark chocolate, and brandy, without the burn or rough finish which is synonymous with other tequilas.  The company is adding a very limited number of retailers through 2012.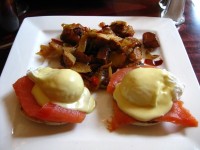 The Bonfire Grill will feature four (4) Voodoo Tiki crafted tequilas, Platinum, Reposado, Anejo and the exclusive Voodoo Tiki Desert Rose Prickly Pear infused tequila.  The World's first and only prickly pear infused tequila, used to make the current "It" cocktail, the prickly pear margarita.
The upscale yet, casual décor of The Bonfire Grill makes it an intimate spot for dinners, small cocktail parties, brunch gatherings and group luncheons.  The Bonfire Grill is located at 7227 Austin Street @ 72nd Road.  Dinner is served nightly from 4pm – Midnight.  For reservations call 718.268.0707.  Visit them online at http://bonfireforesthills.com/
About Voodoo Tiki® Tequila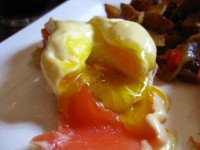 Voodoo Tiki Tequila is a small batch boutique tequila company which produces 100% blue agave, all natural ultra-premium traditional and infused tequilas in artisan glass. Careful agave selection, slow cooking, fermentation, distillation processes lead to the sweet, "No Burn" profile that has become the Voodoo Tiki trademark tequila experience. Voodoo Tiki Tequilas are available in 11 states and 7 countries and are sold exclusively in select restaurant, bar, nightclub and off premise locations through the company's "Select Retailer" program. Retailers that would like to carry Voodoo Tiki Tequilas should call 1-Voodoo-Tiki (1-866-366-8454) for an application. Press inquiries should be directed to Press@VoodooTiki.com. Fans visit www.VoodooTiki.com to get your Free Official Voodoo Tiki Tequila TRIBE Dog Tags by mail.