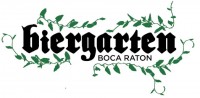 Boca Raton's newest restaurant, Biergarten is the latest neighborhood spot to feature the family of handcrafted Voodoo Tiki® Tequila offerings joining 24 craft beers on tap and a wide collection of bottled beer choices.  Specialty Voodoo Tiki Cocktails including their best selling Voodoo Tiki Tequila Platinum Waterita, which features muddled fresh watermelon, are available now.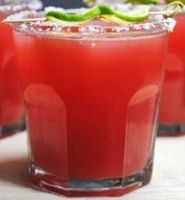 Biergarten is nearly 5,000 square feet of fun and artesian beer, wine and spirits.  Featuring long communal tables, plenty of indoor and outside seating and a cozy upstairs VIP room, the atmosphere and décor is casual, friendly, inviting and fun.  Inside Biergarten features 24 craft beer selections on tap served in traditional steins as well as Pretzels, schnitzels, an array of traditional Bavarian sausages, cheeses, and sandwich choices which include interesting sliders, pastrami, corned beef and more.   Apple Strudel and German Chocolate Cupcakes are just a few of the many desert choices.
Biergarten will be offering Voodoo Tiki Tequila flights, house specialty cocktails and the world famous "Voodoo Tiki Desert Rose Prickly Pear Margarita."  Their recipes can be found at the Voodoo Tiki Tequila website.
Voodoo Tiki Tequila is made in small batches, with the finest ingredients in a top secret process that results in an award winning taste profile with very little heat or bite.  Voodoo Tiki tequilas feature notes of sweet agave, vanilla, caramel, butterscotch, dark chocolate, and brandy, without the burn or rough finish which is synonymous with other tequilas.  The company adds only 300 new retailers each year to its exclusive Selective Retailers Program.
Biergarten is also a popular spot for parties.  Lunch is served daily.  Visit their website for a live entertainment and event schedule at www.biergartenboca.com.  Become a fan on facebook at http://www.facebook.com/BiergartenBoca.  For more information call 561-395-7462.
About Voodoo Tiki® Tequila
Voodoo Tiki Tequila is a small batch boutique tequila company which produces 100% blue agave, all natural ultra-premium traditional and infused tequilas in artisan glass. Careful agave selection, slow cooking, fermentation, distillation processes lead to the sweet, "No Burn" profile that has become the Voodoo Tiki trademark tequila experience. Voodoo Tiki Tequilas are available in 11 states and 7 countries and are sold exclusively in select restaurant, bar, nightclub and off premise locations through the company's "Select Retailer" program. Retailers that would like to carry Voodoo Tiki Tequilas should call 1-Voodoo-Tiki (1-866-366-8454) for an application. Press inquiries should be directed to Press@VoodooTiki.com. Fans visit www.VoodooTiki.com to get your Free Official Voodoo Tiki Tequila merchandise by mail.