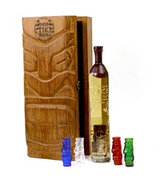 Since 1955 Crazy Billy's has been offering a remarkable selection of wine and spirits, complemented by outstanding knowledge and memorable customer service.  Crazy Billy and his crew have the expertise and reliability to recommend the perfect bottle that will satisfy your palate. Looking for the finest quality Tequila?  Sensational spirits such as Voodoo Tiki Tequila, 100% agave- single barrel craft tequila, are available to patrons looking to impress their guests.  Visit today and ask Crazy Billy himself about the elusive and highly demanded Voodoo Tiki Tequila.
Advocating moderate drinking as part of a healthy life regimen, Crazy Billy's fine clerks can recommend the perfect potion to pair with a new culinary creation or your favorite go-to dish.  Shop online at, CrazyBillys.net, or come into the store for a great deal on your favorite brands while perusing the worldwide selection of Premium, Value and Rare wine and spirits.
Looking for extraordinarily smooth tequila without the burn or aftertaste? Voodoo Tiki's  Reposado, 100% Blue Agave Tequila, is carefully and lightly aged for up to one year resulting in a sweet vanilla like taste with a light brandy finish. Añejo is aged a minimum of one year resulting in a caramel, butterscotch and dark chocolate with soft cognac style taste and finish. During their resting period the tequila's bite relaxes, while flavors breathe.  Created using only the finest ingredients and a unique single barrel distillery process, Voodoo Tiki tequila has a smooth no burn palate, great for sipping on the rocks or making the world's best Margarita.
Voodoo Tiki presents the world's first and only prickly pear infused tequila, Desert Rose Prickly Pear, used to make the luscious prickly pear margarita. Experience an incredible Tequila Martini with Voodoo Tiki Blue Dragon. The fresh taste of rare blue raspberry and mouthwatering green kiwi infused directly into the premium blend tequila provides a fresh fruit experience that will awaken your mind and your taste buds will never forget.  Visit VoodooTiki.com for your free party recipe guide: 100 Margaritas!, By Johnny Tiki.
Crazy Billy's Fine Wines & Spirits Superstore is located at 1887 Deer Park Avenue, Deer Park, NY, 11729. For Crazy Billy's specials, gift certificates or to order a gift basket, visit www.crazybillys.net or call 631-667-8070.
About Voodoo Tiki® Tequila
Voodoo Tiki Tequila is a small batch boutique tequila company which produces 100% blue agave, all natural ultra-premium traditional and infused tequilas in artisan glass. Careful agave selection, slow cooking, fermentation, and distillation processes lead to the sweet, "No Burn" profile that has become the Voodoo Tiki trademark tequila experience. Voodoo Tiki Tequilas are sold exclusively in select restaurant, bar, nightclub and off premise locations through the company's "Select Retailer" program. Retailers that would like to carry Voodoo Tiki Tequilas should call 1-Voodoo-Tiki (1-866-366-8454).