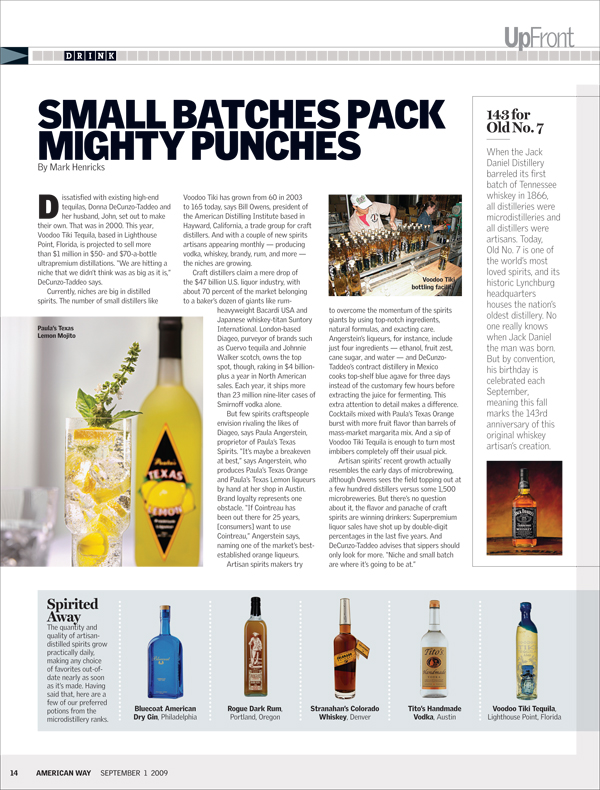 "Small batches Pack Mighty Punches" From American Airlines Magazine.
Dissatisfied with existing high-end tequilas, Donna DeCunzo-Taddeo and her husband, John, set out to make their own. That was in 2000. This year, Voodoo Tiki Tequila, based in Lighthouse Point, Florida, is projected to sell more than $1 million in $50- and $70-a-bottle ultrapremium distillations. "We are hitting a niche that we didn't think was as big as it is," DeCunzo-Taddeo says.
Currently, niches are big in distilled spirits. The number of small distillers like Voodoo Tiki has grown from 60 in 2003 to 165 today, says Bill Owens, president of the American Distilling Institute based in Hayward, California, a trade group for craft distillers. And with a couple of new spirits artisans appearing monthly — producing vodka, whiskey, brandy, rum, and more — the niches are growing.
Craft distillers claim a mere drop of the $47 billion U.S. liquor industry, with about 70 percent of the market belonging to a baker's dozen of giants like rum-heavyweight Bacardi USA and Japanese whiskey-titan Suntory International. London-based Diageo, purveyor of brands such as Cuervo tequila and Johnnie Walker scotch, owns the top spot, though, raking in $4 billion-plus a year in North American sales. Each year, it ships more than 23 million nine-liter cases of Smirnoff vodka alone.
But few spirits craftspeople envision rivaling the likes of Diageo, says Paula Angerstein, proprietor of Paula's Texas Spirits. "It's maybe a breakeven at best," says Angerstein, who produces Paula's Texas Orange and Paula's Texas Lemon liqueurs by hand at her shop in Austin. Brand loyalty represents one obstacle. "If Cointreau has been out there for 25 years, [consumers] want to use Cointreau," Angerstein says, naming one of the market's best-established orange liqueurs.
Artisan spirits makers try to overcome the momentum of the spirits giants by using top-notch ingredients, natural formulas, and exacting care. Angerstein's liqueurs, for instance, include just four ingredients — ethanol, fruit zest, cane sugar, and water — and DeCunzo- Taddeo's contract distillery in Mexico cooks top-shelf blue agave for three days instead of the customary few hours before extracting the juice for fermenting. This extra attention to detail makes a difference. Cocktails mixed with Paula's Texas Orange burst with more fruit flavor than barrels of mass-market margarita mix. And a sip of Voodoo Tiki Tequila is enough to turn most imbibers completely off their usual pick.
Artisan spirits' recent growth actually resembles the early days of microbrewing, although Owens sees the field topping out at a few hundred distillers versus some 1,500 microbreweries. But there's no question about it, the flavor and panache of craft spirits are winning drinkers: Superpremium liquor sales have shot up by double-digit percentages in the last five years. And DeCunzo-Taddeo advises that sippers should only look for more. "Niche and small batch are where it's going to be at."