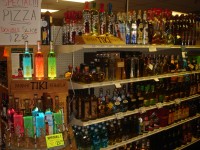 The Popular South Florida liquor chain 67 Wine & Spirts is now carrying the full line of Voodoo Tiki Tequila.   Proprietor Joe Zemel and the crew built a veritable Voodoo Tiki Shrine!  It's awesome!
If you stop in or call, ask for Joe, Mike or Dominic.  They'll give you plenty of Tiki items to go along with your Voodoo Tiki Purchase.
67 Wine & Spirits also has a huge selection of other unique and exotic tequilas, vodkas and rums.  Call them or drop by the shop.  They accept credit cards and can arrange shipping.
5360 N. Federal Highway.
Lighthouse Point, FL 33494
Phone: 954-428-6255